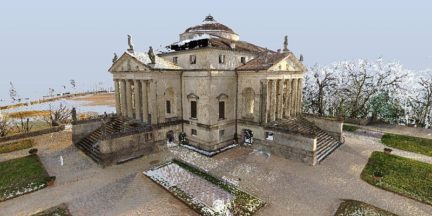 A (Virtual) Trip To La Villa Rotonda
February 18, 5:30-6:30 PM (ET)
Join the UVA School of Architecture for "A (virtual) Trip to La Villa Rotonda: The A-School's footprints in the Veneto." Assistant Professors in Architecture, Luis Pancorbo and Ines Martin Robles, will give an update on the School's Vicenza Summer Program as they build upon the legacy started by Mario di Valmarana and most recently championed by Charlie Menefee.
Associate Professor of Architectural History and Director of the Historic Preservation program, Andrew Johnston, will share his most recent project in Cultural Heritage Documentation – a cutting-edge, high-quality recording of Palladio's La Villa Rotonda. Andrew will walk us through the research conducted by his team of students and collaborators, including the Valmarana Family, to understand the Villa Rotonda as part of a cultural landscape (a social and historical approach that situates the monumental structure within its context). Experience the Villa Rotonda like you never have before! Members of the Valmarana Family will join the conversation to share the impact of the research and digital documentation on this World Heritage site and family home. There will be time at the end for conversation and questions.
Fiske and Marie Kimball: Shaping Our Experience of Buildings and Objects
March 20, 2021 at 9:00 AM (ET)
Monticello will hold a virtual conference on FIske and Marie Kimball's contributions to architecture and Jefferson history on March 20 at 9 a.m. The event is free but you must register online.
Kimball wrote Thomas Jefferson, Architect in 1916 and was considered the dean of American architectural history. His wife, Marie, historian, writer and first curator at Monticello, authored a multi-volume biography of Thomas Jefferson and also published Thomas Jefferson's Cookbook (1941) with updated recipes.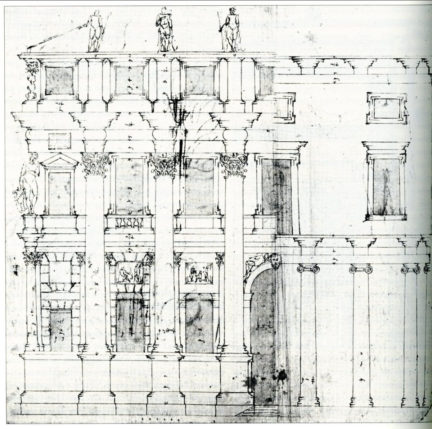 Free Webinar: "Palladio the builder"
Online – Download Available

Tricks and techniques of art construction.
by Giorgio Valentini
The live Zoom webinar has past, but you can download a video of the webinar at the link below.  Once you have linked to the page, scroll down to webinars section.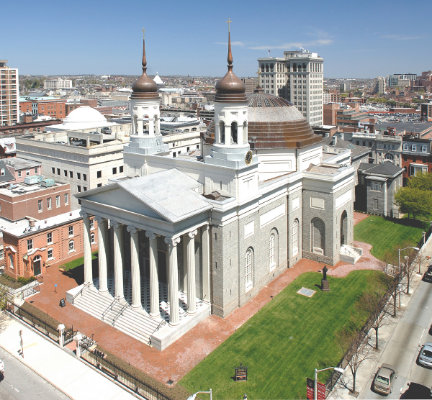 CPSA Tour

POSTPONED – New date to be scheduled soon.
CPSA members and friends are in for a treat with the spring tour of Baltimore's early architecture April 4-5.  Reserve now as space will be limited.
The Baltimore tour starts Saturday morning at 8:30 in Baltimore with a visit to Mount Clare, a country home built for the Carroll family prior to the Revolution and renovated over the years reflecting Palladian influence. (Charles Carroll was a signer of the Declaration of Independence.)
Davidge Hall built in 1812 and the oldest building in continual use for medical education will be next on the tour followed by a visit to the Baltimore Basilica (pictured above).
After lunch and tour at the First Unitarian Church, the group will visit the Peabody Library and Washington Monument and Mount Vernon Square.
The next day the group will visit the Baltimore Museum of Art, the Benjamin Latrobe Spring House and the John Russell Pope sections of the BMA.  Time will also be allotted to visit the art collection of the Museum.
The afternoon will include a box lunch and tour of two museums at Johns Hopkins – Homewood (originally another Carroll family home) and Evergreen Museum and Library, a former Gilded Age Mansion that features the Fowler Collection of Renaissance treatises.
Price for the two days, including box lunches is $175, CPSA members; $195, nonmembers. Reservations may be made at Hotel Revival, Hotel Indigo, or The Hotel Grand.  (You may arrive in Baltimore by car, train, or bus, and carpools will be arranged for the tour.)
To reserve, send your payment to CPSA, PO Box 4754, Charlottesville, VA 22905 (Sorry, our PayPal account cannot be used for trips at this time.)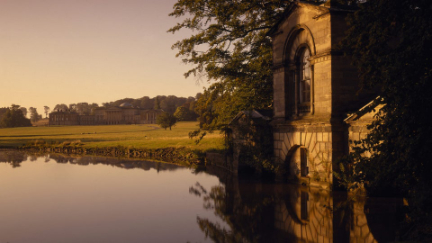 CPSA Tour

Palladianism in Northern England
POSTPONED – New date to be scheduled soon.
After the most successful tour of Southern England last fall, CPSA is again teaming up with lecturer, Dr. Michael Douglas-Scott, and Martin Randall Travel for a tour of the Northern UK September 7-16. The group will have overnight stays in London, Leicestershire, and York and will visit a number of outstanding buildings and beautiful gardens and grounds.
After a day visiting key works in western London, the group will travel to Northamptonshire to visit 17th century classical Stoke Park Pavilions and Lamport Hall built in 1655 for a family that lived there for over 300 years. The following day, the group will travel to Wentworth Woodhouse, the largest private house in England with the longest house frontage in Europe. The tour will also include Nostell Priory, containing a collection of Chippendale furniture.
In York, several buildings will be visited, including Lord Burlington's Assembly Rooms of 1732, York Minister (England's largest Gothic cathedral), and Fairfax House.
Castle Howard, described as one of the great houses of Europe, will also be featured as well as Scampston Hall, a perfect English country house with Capability Brown parkland and a garden.
The northernmost property on the tour will be Rokeby Park in County Durham, a beautiful Palladian mansion with interiors by the York architect John Carr. In Yorkshire, Constable Burton Hall, another work by Carr, will be visited.
Chatsworth, one of the grandest country houses in Britain filled with great art, fine furniture and excellent interiors will be visited along with Haddon Hall. Finally, the group will visit the Capability Brown park leading to Kedleston Hall, a monument of classical architecture and decoration in England.
A downloadable itinerary can be found here: PDF>
As always, CPSA's own Calder Loth will help connect the sights of English Palladianism with sites in the US. For more information, go to martinrandall.com or call 1-800-988-6168.