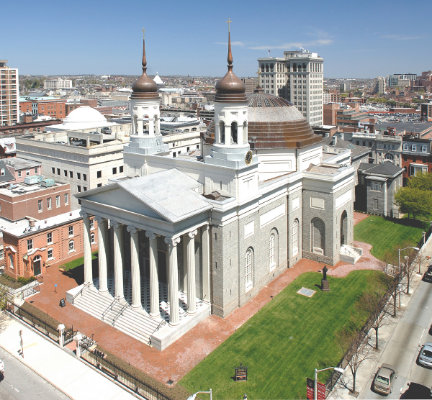 CPSA Tour

November 13-14.
CPSA members and friends are in for a treat with the fall tour of Baltimore Saturday and Sunday, November 13-14.  Reserve by October 28.
The Baltimore tour starts Saturday morning at 8:30 in Baltimore with a visit to Mount Clare, a country home built for the Carroll family prior to the Revolution and renovated over the years reflecting Palladian influence. (Charles Carroll was a signer of the Declaration of Independence.)
Next will be a visit to the Baltimore Basilica (pictured above).
After lunch and tour at the First Unitarian Church, the group will visit the Washington Monument and Mount Vernon Square.
The next day the group will visit Homewood (originally another Carroll family home) and Evergreen Museum and Library, a former Gilded Age Mansion that features the Fowler Collection of Renaissance treatises.
Price for the two days, including box lunches is $175, CPSA members; $195, nonmembers. Reservations may be made at Hotel Revival or Hotel Indigo.
To reserve, email PalladianStudies@gmail.com and send your payment to CPSA, PO Box 4754, Charlottesville, VA 22905 or by PayPal.
You can pay via PayPal using the button below.  You will be able to select the number of tickets at checkout.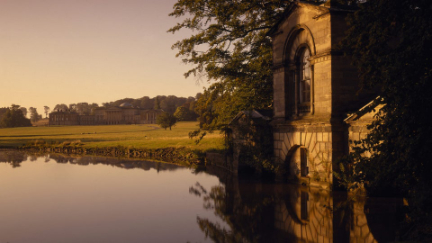 CPSA Tour

Palladianism in Northern England
POSTPONED.
After the most successful tour of Southern England last fall, CPSA is again teaming up with lecturer, Dr. Michael Douglas-Scott, and Martin Randall Travel for a tour of the Northern UK September 7-16. The group will have overnight stays in London, Leicestershire, and York and will visit a number of outstanding buildings and beautiful gardens and grounds.
After a day visiting key works in western London, the group will travel to Northamptonshire to visit 17th century classical Stoke Park Pavilions and Lamport Hall built in 1655 for a family that lived there for over 300 years. The following day, the group will travel to Wentworth Woodhouse, the largest private house in England with the longest house frontage in Europe. The tour will also include Nostell Priory, containing a collection of Chippendale furniture.
In York, several buildings will be visited, including Lord Burlington's Assembly Rooms of 1732, York Minister (England's largest Gothic cathedral), and Fairfax House.
Castle Howard, described as one of the great houses of Europe, will also be featured as well as Scampston Hall, a perfect English country house with Capability Brown parkland and a garden.
The northernmost property on the tour will be Rokeby Park in County Durham, a beautiful Palladian mansion with interiors by the York architect John Carr. In Yorkshire, Constable Burton Hall, another work by Carr, will be visited.
Chatsworth, one of the grandest country houses in Britain filled with great art, fine furniture and excellent interiors will be visited along with Haddon Hall. Finally, the group will visit the Capability Brown park leading to Kedleston Hall, a monument of classical architecture and decoration in England.
A downloadable itinerary can be found here: PDF>
As always, CPSA's own Calder Loth will help connect the sights of English Palladianism with sites in the US. For more information, go to martinrandall.com or call 1-800-988-6168.