Past Events
Over the past several years, CPSA has sponsored spring and fall tours in Virginia and West Virginia. For detailed trip reviews, please use access to links to past Palladiana articles.
Upcoming events can be found on the upcoming events page. View
To participate in upcoming events sponsored by CPSA become a member. Join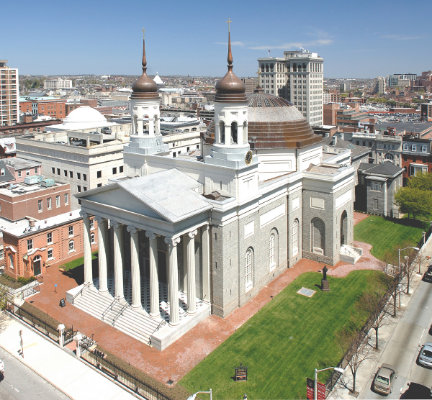 CPSA Tour

November 13-14, 2021.
CPSA members and friends are in for a treat with the fall tour of Baltimore Saturday and Sunday, November 13-14.  Reserve by October 28.
The Baltimore tour starts Saturday morning at 8:30 in Baltimore with a visit to Mount Clare, a country home built for the Carroll family prior to the Revolution and renovated over the years reflecting Palladian influence. (Charles Carroll was a signer of the Declaration of Independence.)
Next will be a visit to the Baltimore Basilica (pictured above).
After lunch and tour at the First Unitarian Church, the group will visit the Washington Monument and Mount Vernon Square.
The next day the group will visit Homewood (originally another Carroll family home) and Evergreen Museum and Library, a former Gilded Age Mansion that features the Fowler Collection of Renaissance treatises.
Price for the two days, including box lunches is $175, CPSA members; $195, nonmembers. Reservations may be made at Hotel Revival or Hotel Indigo.
To reserve, email PalladianStudies@gmail.com and send your payment to CPSA, PO Box 4754, Charlottesville, VA 22905 or by PayPal.
You can pay via PayPal using the button below.  You will be able to select the number of tickets at checkout.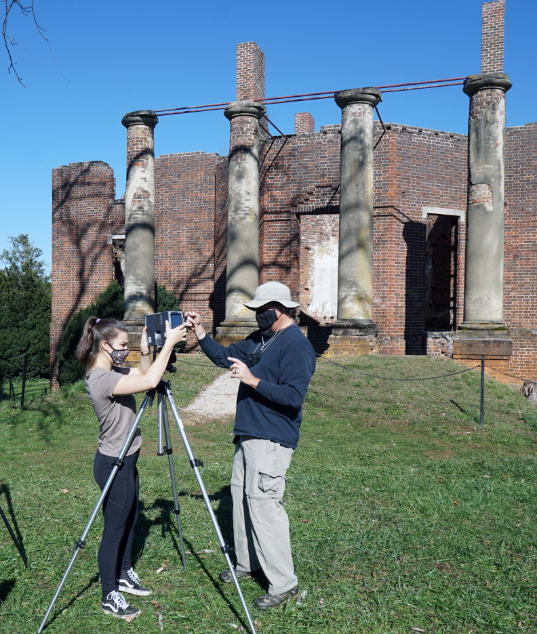 CPSA Annual Membership Meeting

Friday, October 8, 3-6 pm
Barboursville tour and annual meeting for CPSA members and their guests.
Cost: $25 for guests of CPSA members (members free)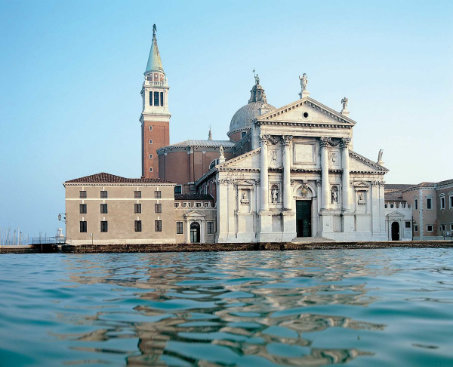 Palladio Reloaded
Four Conversations About Architecture and More
April 9th, 2021
April 30th, 2021
May 21st, 2021
June 11th, 2021
11:00 a.m. EDT – New York
8:00 a.m. PDT – Los Angeles
5:00 p.m. Italian Time – Milan
11:00 p.m. CST – Singapore
Fiske and Marie Kimball: Shaping Our Experience of Buildings and Objects
March 20, 2021 at 9:00 AM (ET)
Monticello will hold a virtual conference on FIske and Marie Kimball's contributions to architecture and Jefferson history on March 20 at 9 a.m. The event is free but you must register online.
Kimball wrote Thomas Jefferson, Architect in 1916 and was considered the dean of American architectural history. His wife, Marie, historian, writer and first curator at Monticello, authored a multi-volume biography of Thomas Jefferson and also published Thomas Jefferson's Cookbook (1941) with updated recipes.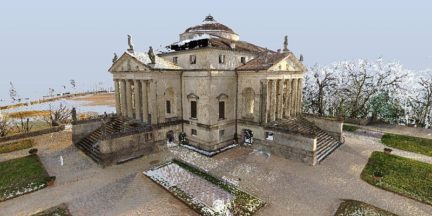 A (Virtual) Trip To La Villa Rotonda
February 18, 5:30-6:30 PM (ET)
Join the UVA School of Architecture for "A (virtual) Trip to La Villa Rotonda: The A-School's footprints in the Veneto." Assistant Professors in Architecture, Luis Pancorbo and Ines Martin Robles, will give an update on the School's Vicenza Summer Program as they build upon the legacy started by Mario di Valmarana and most recently championed by Charlie Menefee.
Associate Professor of Architectural History and Director of the Historic Preservation program, Andrew Johnston, will share his most recent project in Cultural Heritage Documentation – a cutting-edge, high-quality recording of Palladio's La Villa Rotonda. Andrew will walk us through the research conducted by his team of students and collaborators, including the Valmarana Family, to understand the Villa Rotonda as part of a cultural landscape (a social and historical approach that situates the monumental structure within its context). Experience the Villa Rotonda like you never have before! Members of the Valmarana Family will join the conversation to share the impact of the research and digital documentation on this World Heritage site and family home. There will be time at the end for conversation and questions.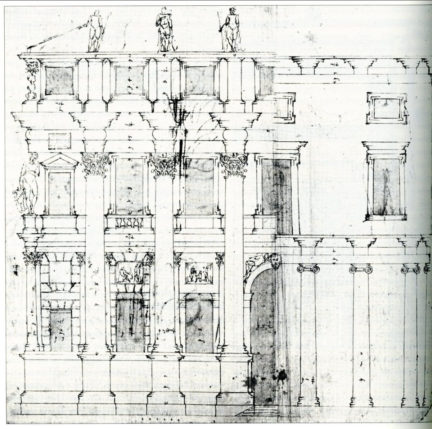 Free Webinar: "Palladio the builder"
Online – Download Available

Tricks and techniques of art construction.
by Giorgio Valentini
The live Zoom webinar has past, but you can download a video of the webinar at the link below.  Once you have linked to the page, scroll down to webinars section.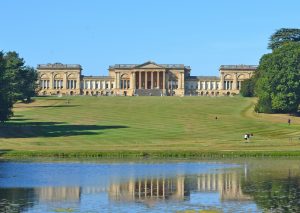 Lecture

Palladio in Southern England and the American Connection
The Branch Museum of Art and Architecture, Richmond, VA
December 12
Architectural historian Calder Loth gave an illustrated lecture on the CPSA trip to southern England in Fall 2019, and explained the connections between the English landmarks inspired by Palladio and American buildings of the same or later period.    The event was co-sponsored by The Branch Museum of Architecture and Design, Richmond.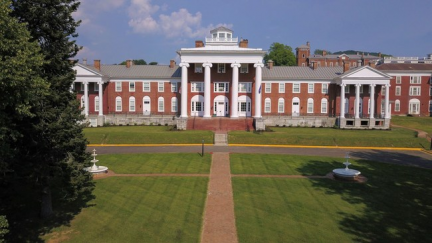 CPSA Tour

Staunton, VA

November 23, 2019
CPSA sponsored a tour of Thomas Blackburn properties and other historic buildings in the Staunton area.  Blackburn, who had been a builder at UVA, designed the Western State Asylum in the 1830s. One of its buildings has been renovated as a boutique hotel, The Blackburn Inn, where members stayed.  Richmond developer Robin Miller spoke to the group about other plans under development for the Western State grounds and buildings, and the role of Virginia tax credits to ensure preservation and restoration.
Richmond architect Bryan Green, author of  In Jefferson's Shadow: The Architecture of Thomas R. Blackburn  told the story of Blackburn moving from builder to architect.  The group toured the hotel to see many of the features retained in its renovation.
Interestingly, at the time of the construction in the 1830s, the belief was that persons with mental illness would benefit from beautiful surroundings where they could recover and thus, the buildings and grounds were designed in that model.
In addition, thanks to Staunton architects and preservationists, Bill and Kathy Frazier, and the hospitality of owners, the CPSA group visited two private homes:  Stuart House, a wing of which was designed by Thomas Blackburn, and Waverly Hill, designed by William Bottomley.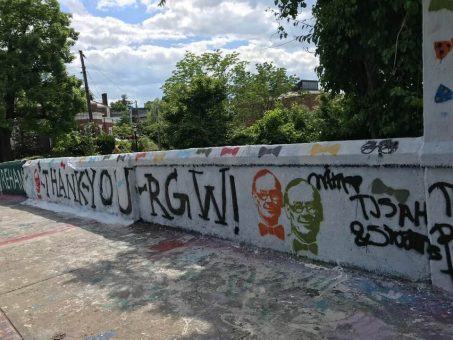 Symposium and Celebration
In Honor of Richard Guy Wilson
Charlottesville, VA

November 15-16, 2019
Students and colleagues honored architectural historian Richard Guy Wilson, a CPSA Board member, with a wide variety of presentations about the scope of work by architectural historians, many of whom were greatly influenced by his work in architectural history. Wilson recently retired from the Architectural History Department, Architecture School, University of Virginia (UVA).
The Architecture School announced it is establishing a chair in architectural history in his honor: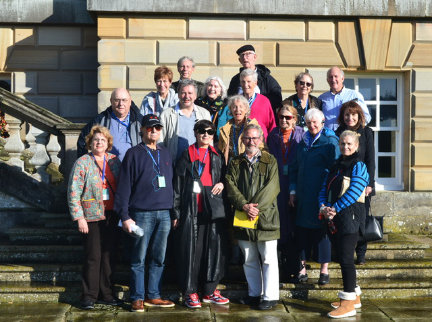 CPSA Tour

Palladianism in Southern England
September 19-28, 2019
CPSA's Calder Loth, an architectural historian and CPSA vice-president, helped guide the trip visiting examples of English Palladianism in an itinerary planned by Martin Randall Travel. As with the 2018 Veneto tour, Loth helped connect Palladian homes in England to those in Virginia and the rest of the US. Details of the trip will be published in a future issue of Palladiana.
Become a member to subscribe to Palladiana. Join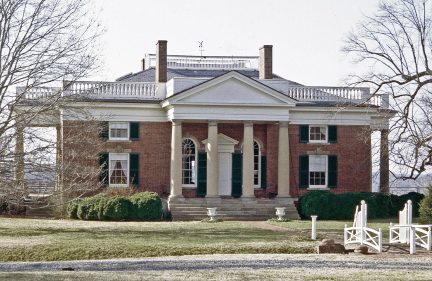 Fluvanna Tour

Bremo and Glen Burnie
September 7, 2019
Two John Hartwell Cocke houses in Fluvanna County were the focus of the tour.
Bremo, built 1816-1820 by General Cocke in conjunction with Jefferson architect-builder John Neilson, is a magnificent example of Palladian architecture in America.
The house as well as a stone barn and the Temperance Temple were visited.  The tour was guided by Judy Mickelson, former executive director of the Fluvanna Historical Society, and architectural historians K. Edward Lay and Calder Loth.
After visiting Bremo, the group returned to the village of Palmyra for lunch followed by a tour of Glen Burnie, near the village and also designed by Gen. Cocke and built in 1829.  While the interior, including Palladian arches, are original, the house was restored in the 1990s by the current owner.
These houses are private homes and cannot be visited outside of a guided group.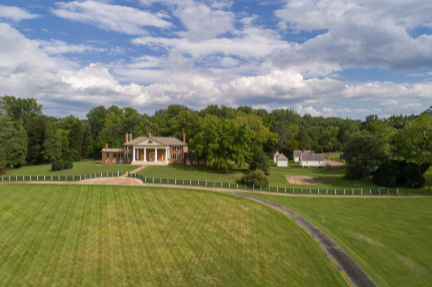 CPSA Annual Membership Meeting

Montpelier
June 28, 2019, 4 p.m.
CPSA held its annual membership meeting Friday, June 28 at 4 p.m. at  James Madison's Montpelier in Orange County.
CPSA vice-president Calder Loth, who served on an advisory committee during the restoration, spoke, as did Jennifer Wilkoski Glass,  Montpelier's Director of Architecture and Historic Preservation.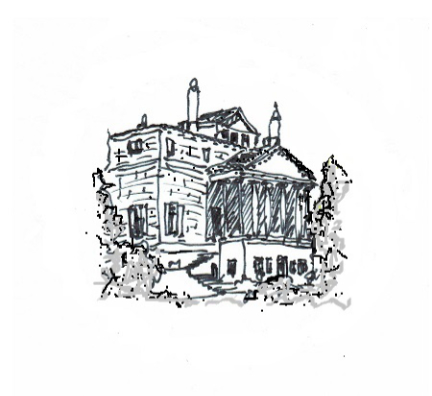 Brown Bag Lunch and Lecture with Gary Paul

The Branch Museum, Richmond VA

March 21, 2019 at noon
The Branch Museum of Architecture and Design hosted a brown bag lunch and lecture with Gary Paul on Thursday, March 21 at noon.
Paul received his architecture degree from Harvard and practices in New York City where he has designed outstanding homes, apartments, and interiors.    He has won many awards from AIA and House Beautiful, including one touting him as a top-10 designer for a show house room in Wilmette, IL.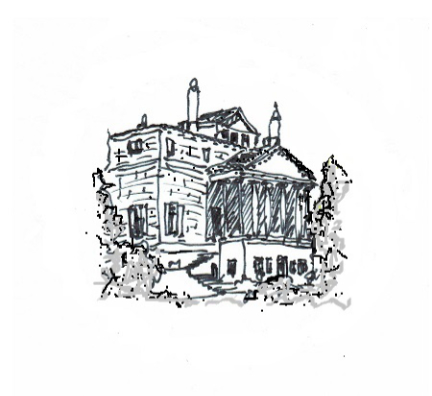 Reception and Lecture

Palladio and His Influence on 500 years of Architecture
Richmond VA

March 21, 2019
CPSA and the Branch Museum of Architecture and Design co-sponsored an evening of Palladio and camaraderie on Thursday, March 21 at 6 pm at The Branch Museum, 2501 Monument Avenue, Richmond, VA.
CPSA member and New York City architect Gary Paul talked about Palladio and his Influence on 500 years of Architecture (sometimes known as Palladio and Risotto: a Love Story).
Paul received his architecture degree from Harvard and practices in New York City where he has designed outstanding homes, apartments, and interiors.    He has won many awards from AIA and House Beautiful, including one touting him as a top-10 designer for a show house room in Wilmette, IL.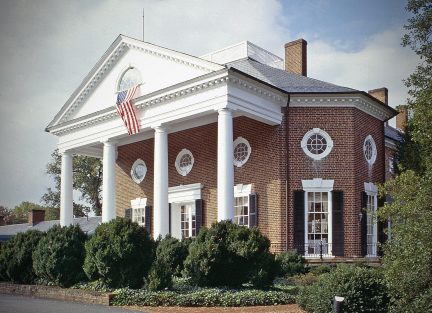 CPSA Tour

Farmington and Gallison Hall

November 2018
CPSA paired with the Farmington Historical Society Foundation to present a special tour of Farmington, first patented in 1753. In 1803, Thomas Jefferson drew plans for an addition to the house, an octagon with two rooms. After the country club was developed in 1927, the house underwent restoration utilizing Jefferson's original plans. The Jefferson Room was refurbished under the direction of Frederick D. Nichols professor of Jeffersonian Architecture at University of Virginia. The group also viewed Farmington's additions designed by architect Marshall Wells.
A nearby 20th century home, Gallison Hall, was designed with Palladian features, and the group also visited this house. CPSA Board members and architectural historians Ed Lay, Richard Guy Wilson and Calder Loth led the tour with additional commentary from Blake McDonald of the Virginia Department of Historic Resources.
Become a member to read an article summarizing the trip in Palladiana, Spring 2019. Join
CPSA Tour

Veneto in Italy: Palladio Plus

October 2018
Twenty-three CPSA members toured  the Veneto region of Italy for 10 days in October 2018 to visit many outstanding Palladian buildings and to learn more about Palladio and his architectural legacy. The tour included visits to Vicenza, Mantua, Padua, and Verona, as well as a special reception at Villa La Rotonda, ancestral home of the late Mario Valmarana, CPSA founder.
Become a member to read an article summarizing the trip  in Palladana, Spring 2019.  Join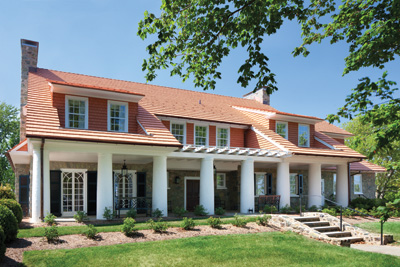 Annual Meeting
Repose on Montalto, near Monticello
July 2018
CPSA and the Robert H. Smith Center co-sponsored CPSA's annual meeting at Montalto, a mountaintop property purchased by Thomas Jefferson in 1777.
Architectural historian Calder Loth gave a spirited talk on Jefferson's and Palladio's influences on Virginia architecture. These include not only Monticello and Poplar Forest but also numerous courthouses and other homes constructed by Jefferson's finely trained  craftsmen who became adept in using Palladian design.
Tour

Christopher Newport University
June 2018
In Spring 2018, CPSA participated in a tour of Christopher Newport University in Newport News, VA, co-sponsored by the Mid-Atlantic Institute of Classical Architecture and Art (ICAA), and  Glavé & Holmes Architecture, Richmond.
Become a member to read a full description in the President's Letter in Palladiana, Fall 2018. Join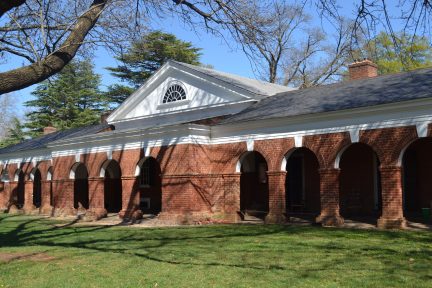 UVA Symposium

New Discoveries of Thomas Jefferson's Architecture and Design

March 2018
CPSA helped fund the symposium and accompanying art exhibit in Spring 2018. Many CPSA members attended, and several board members made presentations. Richard Guy Wilson, UVA architectural history professor and CPSA Board member, organized the symposium and exhibit as part of UVA's bicentennial commemoration.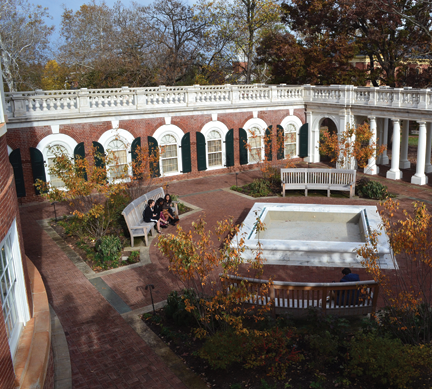 CPSA Tour

Rotunda and the Lawn, University of Virginia
November 2017
This tour led by Jody Lahendro, Historic Preservation Architect with UVA's Facilities Planning and Construction, and Ed Lay and Calder Loth, architectural historians, included both the renewed Rotunda and the grounds of UVA.
Read article, Palladiana, Spring 2018. Read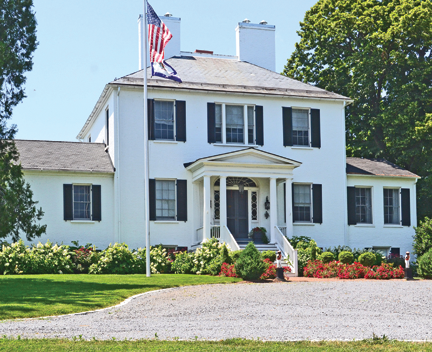 CPSA Tour

Homes in the West Virginia Panhandle
June 2017
CPSA members enjoyed a two-day tour of historic houses and estates in Jefferson County, WV, an exceptionally scenic area in the northern end of the Shenandoah Valley. Local historian John C. Allen, Jr. led the trip, including visits to to several homes established by members of the Washington family, relatives of George Washington, who were attracted to the fertile land of the region. The group also toured historic Shepherdstown and were treated to a reception at his modern classical home, Vandalia.
Read article, Palladiana, Fall 2017. Read